A piece of jewellery can also portray the wearer's personality and status in life. That is why many would like to sport the loveliest signature pieces when out in public.
But, did you know that the accessory need not be extravagant in design to garner attention?
Sometimes, putting on jewellery with a simple and pure style can speak volumes about who you are. For those who desire an elegant yet subtly design jewellery, take a look at the Chloé collection from Gianfranco Bigli.
Crafting a Beautiful Chloé into the Gianfranco Bigli Design
Every designer follows a unique design philosophy which can be seen in their finished work.
But, the Bigli concept strives to achieve beauty in its purest form. Many of their jewellery pieces exhibit simple yet highly alluring designs. It was inspired by nature and mirroring its intrinsic beauty. Rings, pendants, and earrings designed by Bigli bear stylised curves and soft shapes.
Each gemstone was cut to mirror a specific theme. Both the precious and semi-precious stones were cut "en cabochon" with almost no facets, creating a piece of jewellery that best embodies the natural theme.
Check out the latest Chloé collection available at Reading jewellery shops.
Peruse the Latest Selections from the Chloé Collection
It's no secret that Gianfranco Bigli jewellers strive to make jewellery with innovative but natural-feeling designs. And, this latest selection shows their skill in making all-encompassing pieces that, definitely, fits their vision. Take a look at their latest masterpieces that is part of the Chloé collection.
Brilliant Quartz Ring with Mother-of-Pearl
This Rutilated Quartz 'Chloe' Ring prominently features a stunning mixed centrepiece. This ring's design suggests that the wearer has an outgoing and independent personality.

Truly, a marvel of design, this Rutilated Quartz 'Chloe' Ring, features a centrepiece that is made of a quartz rutile with white mother-of-pearl. It is set on an 18 carat rose gold metal ring which highlights the set stone.
This piece is ideal for wearers with a free and unbound personality. It is a perfect ring to wear with a casual outfit since it would go well with just about any colour dress.
A Mesmerising Blue Pendant
The Bigli Chloe Rose Gold Blue gemstone pendant is the perfect example of an artist's skill. This pendant works best with bright and cheerful colours. This suggests that the possessor is cheerful yet deep at heart.
Consisting of turquoise with mother-of-pearl in a rub-over setting, this Bigli Chloe Rose Gold Blue gemstone pendant is a testament to masterful craftsmanship. It possesses a single brilliant cut diamond flush set into the setting along with a 45 centimetre rose gold chain.
This amazing pendant is the perfect accessory if you decide to go with a yellow-dominant attire [Le Vive Jewelery]. The pleasant blue gem perfectly contrasts the cloth colour which will garner a much-appreciated attention.
Eye of the Tiger
As with most of the selection, this Gianfranco Bigli Tigers Eye look 'Chloe' ring is truly a marvellous piece. The onyx centre design decision restricts ring for particular yet important events.
This Tigers Eye look ring prominently features a Quartz rutile with Onyx centrepiece. The superposition of different stones and strong curve design makes it a certainly eye-catching piece. This one-of-a-kind design makes it an impactful jewellery item. So, it is excellent for special nights out or meeting a special person.
Mystifying Green Pendant
Few words can express how amazing this Rose gold green gemstone pendant is. The perfect mix of agate, lemon quartz, and mother-of-pearl makes this necklace stand out in a crowd.
Unlike most necklaces, this Rose gold green gemstone pendant has a centrepiece that is made from Lemon quartz with green agate and mother-of-pearl set on an 18ct rose gold chain. It is a sophisticated piece which goes well with any formal attire, especially dashing black dresses. So, wear this one if you are going to a formal event along with prominent people.
Soulful Blue Ring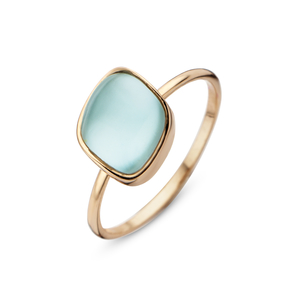 Solemn themes are associated with this Rose gold Blue gemstone ring. Due to its excellent craftsmanship and versatile design, this ring will almost certainly be the first choice for everyday wear.
Similar to the pendant above, this Rose gold Blue gemstone ring has a centrepiece made from mother-of-pearl and turquoise. But, unlike the necklace, you can wear this ring with almost any attire. Its distinct style and light blue colour make it a versatile piece which can complete a formal, casual, or semi-casual dress. So, it is the best ring for everyday wear.
Add the Gianfranco Bigli Chloé Selection to Your Collection
Sporting the right jewellery for a perfect attire is almost an obsession. This new Chloé selection can be your excellent jewellery pieces to match your preferred style and outfit. These pieces embody the unique design philosophy and adherence to simplistic beauty we've come to expect from Gianfranco Bigli jewellery.
Enquire about the latest Chloé collection which catches your fancy and pre-order it from an independent Reading jeweller today.
References:
About Bigli, bigli.net
CHLOÉ, bigli.net
Gemstone Cuts, jewelsforme.com
Jewellery to Clothes - Color Coordination: The Basics, levivejewelry.com